icnw
Cultivating Community through Sunflowers
Cultivating Community through Sunflowers
We make and sell organic, locally grown sunflower oil. Our proceeds support education related to sustainability and renewable energy. Help us to expand our impact. 
We are the Platteville Sunflower Oil Company, founded in 2014, owned and run by eight (unpaid) students from the University of Wisconsin-Platteville. When we started our organization, we came together with different backgrounds and experiences, which have helped us to grow and evolve as a company, and as individuals. Our organization is currently working to transform into a non-profit, so that we can better serve the community as a social benefit organization.
Find out more about us:
Where we began:
Over 50 students and eleven local businesses helped start the Platteville Sunflower Project in 2013. Together, we grew sunflowers, harvested seeds, and pressed oil right here in Platteville. Sunflower oil is a healthy alternative to olive oil, and by being locally grown it has less of a carbon footprint. As a bonus, the seed husk byproduct makes a great organic cattle feed.
In 2015, the UW-Platteville Entrepreneurship Minor offered a class in which students adopted the project and became the founding board of directors.  We financially separated ourselves from the University by organizing ourselves as a company. We are now working to reach non-profit status as we believe that is the best way to meet our goal of cultivating community.
Our Mission:
Our organization operates with the express purpose of creating sustainable and healthy products, investing in the community, and experiencing entrepreneurship outside of the classroom setting. This mission can be summed up in our motto, "Cultivating Community through Sunflowers," a phrase which we believe best represents our mission and goals.
Our Product:
In order to fulfill this purpose, we make and sell organically grown sunflower oil for use in cooking, for salads, baking, and sauteing at high heat (375 F). We partner with organic farmers in the area to grow our seeds, and with a small pressing facility near Madison to make the oil. We bottle the oil ourselves, right here in the campus commercial kitchen.  Our oil can be found in 8.5 oz glass bottles, our new 16 oz plastic bottles, and in bulk at stores throughout the Driftless Region.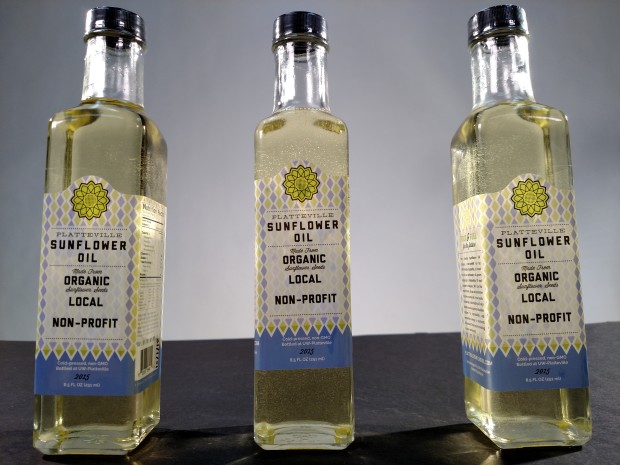 Sunflower oil has several health benefits over other oils based on the nutritional content.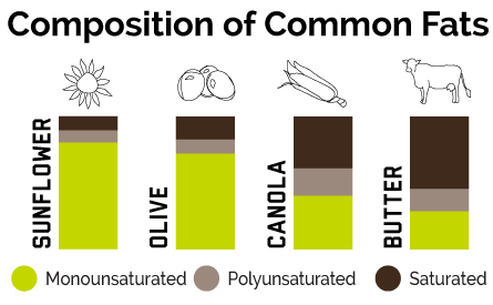 Why we need your help:
We have worked hard to expand and grow, and so far we have reached many people with our message of sustainability and community-focused business. Our product has been so well received that we want to make our product available to more customers. We are currently operating at cost, which leaves us with little money to invest in expanding production capacity.
Without you we cannot continue to grow, to bring community focused products to market, or to help improve the lives of those around us. With your generous contribution, together we can continue "Cultivating Community through Sunflowers!"
How much are we trying to raise?:
Our funding goal is $25,000.
Where is your money going?:
Your generous donation will be used to continue the expansion of our production capacity, allowing us to grow more sunflowers, and invest in the associated packaging costs.
We are all volunteers, so none of your donation will be spent towards administrative costs.
By expanding our production capacity, we can continue to meet our mission, and bring social benefit to the communities around us, through scholarships and internship opportunities. We can also continue to invest in the community, through our contracts with local farmers, to grow our seeds. 
Our risks:
While widely used in Europe, sadly, sunflower oil is less-common in the United States. We are working to increase awareness of this healthy and locally grown product in the U.S.A.
There are always risks in business, and when it comes to local food the challenges are introducing people to new products. We have found ways to overcome this through sampling our product in stores where our oil is sold and providing sample bottles for local cooks and chefs.
Sampling is our favorite way to expose our product to potential customers, because it puts us face to face with them. When we table, and a customer tries our product for the first time, we get to see their face light up as they are introduced to a new taste. It is also our favorite publicity method, because we can answer questions, spread information, and interact directly. Ultimately, it allows us to meet our customers, and bring a personal face to our product.
How else can you help?:
If you cannot donate, you can still help.  Let people know about our campaign and how they can donate by sharing our story. Tell people about how we help the community and how we are focused on local investment! Help spread the word!
You can find more information on our website at:
Summary:
We make and sell organic, locally grown sunflower oil. Our proceeds support education related to sustainability and renewable energy. Help us to expand our impact.
Youtube: https://www.youtube.com/watch?v=UAI4OJy4NcM
See Campaign: https://www.indiegogo.com/projects/cultivating-community-through-sunflowers#/
Contact Information:
Platteville Sunflower
Mathis Murphy
Tags:
Indiegogo, United States, Reward, English, Ingredients, Food and Beverage, Industry verticals, Regions, Types of Crowdfunding deal, Language, Wisconsin
Source: ICNW