icnw
The Urban Canning Company's Expansion!: Grass Roots Company Cooking Up Hand Made Artisanal Preserved Foods Needs Help Through Growth Spurt!
The Urban Canning Company's Expansion!
The Southern Charm Collection
We've created an exclusive small batch collection of pickles and preserves inspired by some of our favorite southern foods. Each jar is hand cooked, packed and preserved the old fashioned way with no artificial preservatives or ingredients!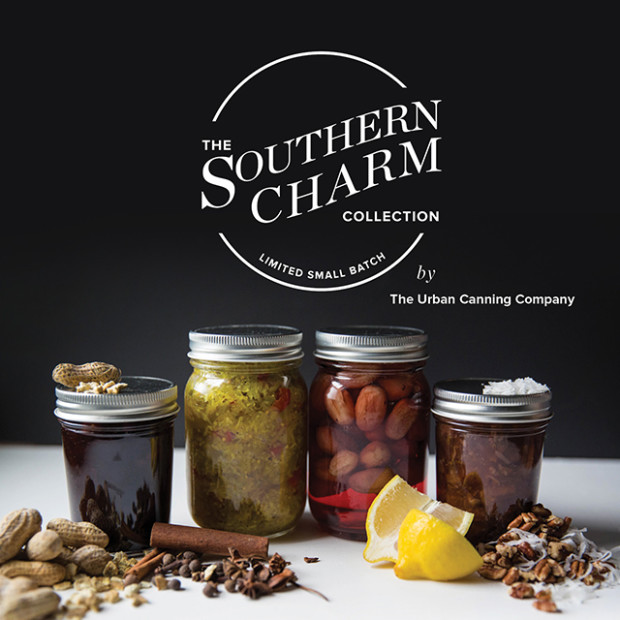 Our Story
The Urban Canning Company is a local St. Petersburg based company owned and operated by St. Pete native, Illene Sofranko. 
We offer one of a kind, hand crafted and hand preserved foods such as jams, pickles and beer mustards. We specialize in interesting flavor compositions and utilize only fresh, seasonal, locally sourced produce. 
Each product is hand packed and preserved using traditional methods so you won't find any artificial preservatives in any of our products. We also do not use any dyes, or artificial flavors of any kind! 
Illene's History.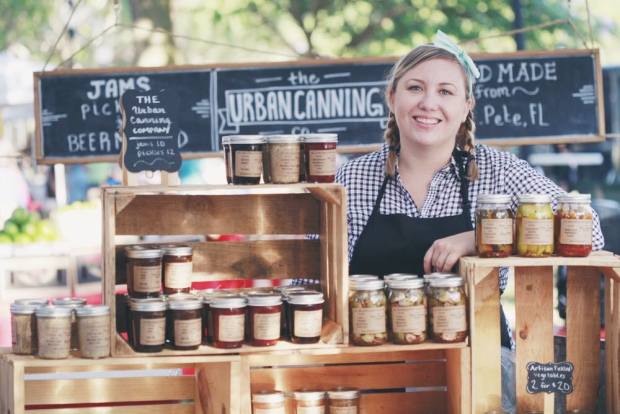 I was taught how to can by my great uncle, "Uncle Ray". He grew up in a small coal miners town called Charmco up in the mountains of West Virginia. They had a farm, and canning was practical and necessary for surviving the long winter months there. They did not have much money so the only things they would buy from a grocery store were salt, flour and sugar. He passed on his canning skills to me although I do not can for survival like he and my family did growing up. I have still kept with their traditional methods and continue canning because; it helps support local agriculture, taste better, is fresher, promotes sustainable food, helps avoid damaging natural resources and it allows me to know exactly what I'm eating! Growing up in St. Petersburg, FL I was exposed to cultural food-diversities and I developed a taste for unique flavors, textures and ingredients. Those sensitivities combined with my high country roots are really the foundation of my recipes. I strive to keep my palette modern and relevant while still staying true to the old country staples I grew up eating out of the pantry every summer while I was visiting my family. One of my great passions in life is breaking bread with friends, loved ones and people in general. Through the Urban Canning Co. I have been able to live that passion, share my love of good food and educate others about all natural food preservation. Enjoy!
What goes into each and every Urban jar?
From start to finish, each jar produced by The Urban Canning Company is made by hand. We start with fresh, seasonal and locally sourced produce that gets cleaned with vinegar, cut and processed by hand.
Each pickle jar gets filled with herbs and spices, packed with vegetables, and homemade pickling brine gets ladled on top! The jam is made in small batches to ensure great flavor, control texture and to highlight as many seasonal fresh fruits as possible! The beer mustards have a very unique way of being made. We actually soak and ferment our mustard seeds in a beer brine for up to a week. Then the seeds get separated from their brine, ground down, then added back to their brine with spices, whisked and boiled up to blend flavors and thicken!
Each jar is hand filled before it gets cleaned, lidded and processed in a traditional hot water bath that preserves it naturally.
From start to finish a small batch of pickles, jam or mustard could take up to a day to complete, and up to a week to cure. The canning process is a slow food process. It renders patience, but the end result is a food that tastes like tradition, home and family. You can taste all the hard work put into each and every jar every time you pop one open.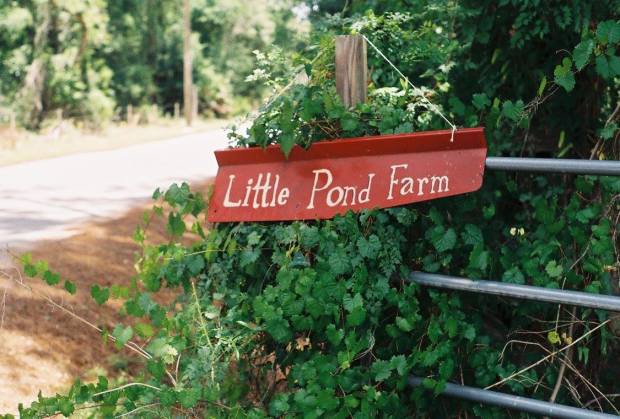 During Florida's growing season we collaborate closely with our local farms!
Help Us Fund Our Growth Spurt!
The Urban Canning Company is currently working out of a shared kitchen space and we are so fortunate to be rapidly growing out of it. The leaps and bounds we have made since we launched our company in March of 2014 have been amazing! We have been able to make some rad small scale growths. 
In order for us to go any further with our dreams and goals, however, we need some big time capitol. We started the business originally with only $1,000!
To keep up with demand, expand our reach regionally and sustain our crew members we are asking for your help!
The things we need are pretty expensive. 
First and foremost, funds to put a down payment on our own kitchen
Gas stove tops and a 6 ft hood with hood installation
A walk in refrigerator (Oh the glory!)
An industrial dish washer and sterilizer (We can't even imagine)
Stainless steel tables, racks, sinks and vegetable sinks
Industrial fruit peeler (The end of carpal tunnel)
Industrial jar filler (We can't believe these even exist in the world)
Depending on the space we find we could also need hand sinks, restrooms, or anything else to bring the space up to code (hidden costs!)
We need barcodes and water proof labels
We also need to send all our products in to get nutritional breakdowns
Our Ah-Ha Moment
It's been amazing to watch our community really accept and support our company since it's birth. We had no idea that after a few farmer's markets it was going to take off the way it did! We have barely had time to breath or make any sense of it! At the beginning of the summer, through some guidance from another local business owner, we learned that with this movement happening in our area we needed to buckle down and really look at the ins and outs of what it means to run a successful food business. What we needed to get to the next level and how we could bring healthy, hand preserved foods showcasing Florida agriculture to the masses! That's when we realized that we just didn't have the capital to really get ahead. It was a really sobering moment. We were making enough to continue on as we were, but the equipment we needed was just so expensive! There are a few ways of trying to come up with funds; getting a loan from a bank, bringing in investors for a piece of your business, crowd sourcing, or maybe you have some family with that cash! Out of all the options, we decided that we'd really love to see if our community would back us up on this one! No owing banks money, no giving away pieces of the company to guys in suits, and no crazy time family drama! (Just kidding, or are we?)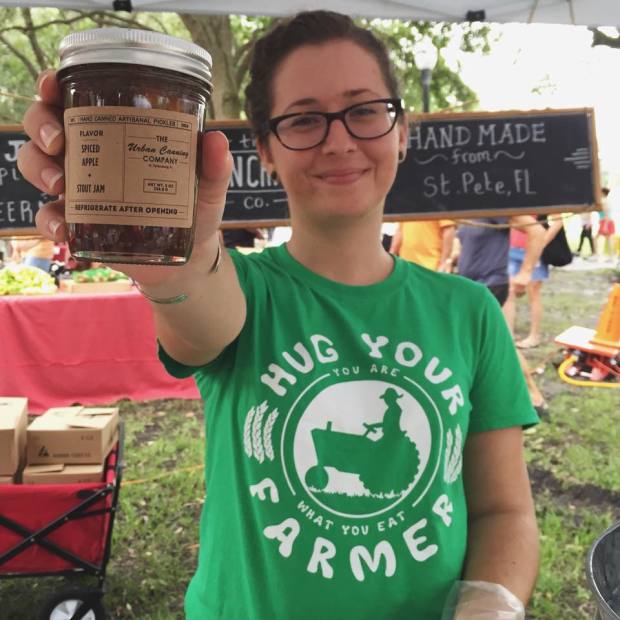 The People First Business Model
Our business model is different than the norm. We put our people first. Every goal that we have set in place is based on what each of our crew members needs in order to sustain their lives. How many accounts do we need to land in order to bring a volunteer into a full time paid position that supports them? We also keep our people's dreams in mind as well and see how we can incorporate that into their roles, and possibly into our company. Our goal by the end of 5 years is to be half employee owned. Happy people, happy food, happy customers, thriving local economy. 
Summary:
We've created an exclusive small batch collection of pickles and preserves inspired by some of our favorite southern foods. Each jar is hand cooked, packed and preserved the old fashioned way with no artificial preservatives or ingredients!
Youtube: https://www.youtube.com/watch?v=in6AxV0ixLg
See Campaign: https://www.indiegogo.com/projects/the-urban-canning-company-s-expansion#/
Contact Information:
Illene Sofranko
Tags:
Indiegogo, United States, Reward, English, Food, Florida, Food and Beverage, Industry verticals, Regions, Types of Crowdfunding deal, Language
Source: ICNW