icnw
UOU electric vehicle: Discover the mobility of the future! Creative/Fun/Electric/Energetic/Completely Wide
UOU electric vehicle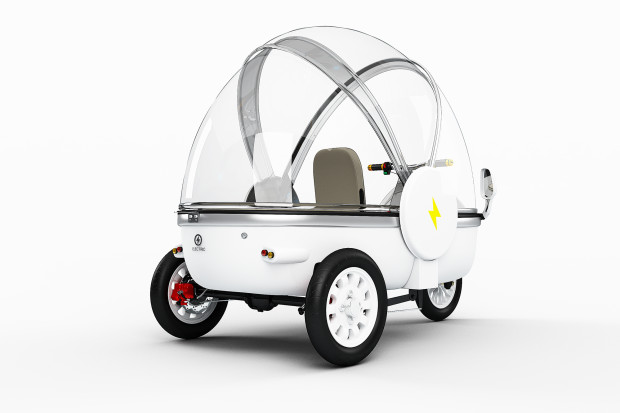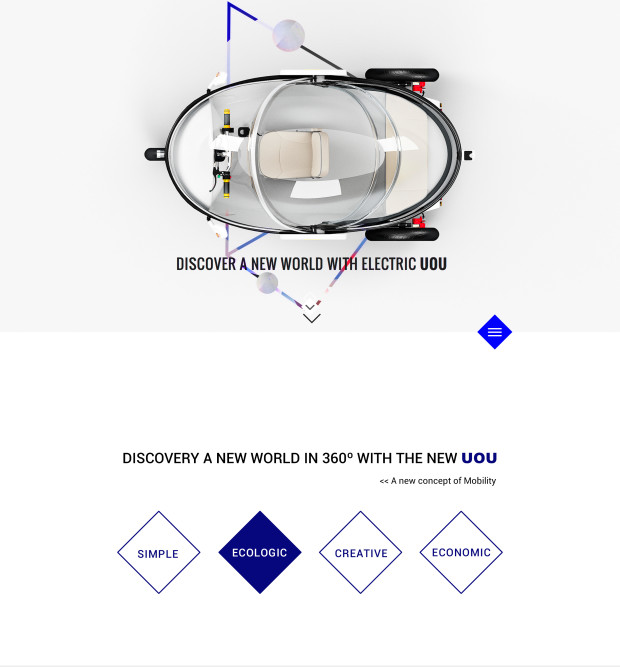 >> UOU a startled expression, is also the brand of the vehicle that promises to revolutionize mobility.
The vehicle has a design that does not go unnoticed, dominated by transparent oval roof to the good flying car style of the JETSONS, the animated series that made furor in 60s and 80s and remains in our imaginary of the future.
Although our vehicle does not fly, it was created thinking about fighting the traffic jams and pollution in the cosmopolitan cities.
UOU appears as an attractive and affordable solution of modern people for green mobility, with design, minimal costs, autonomy, no environmental pollution, without infrastructure commitments and without driver license. Αn electric vehicle that uses a wind generator and powerful motor, to carry two passengers and their luggage. It moves with electricity, which is stored in a lithium battery. UOU stands out for the micro power generation system that allows the user to generate power, a system with steppers similar to those used in camping but here associated with mobility.
UOU – the new mobility!

>>The UOU promises to be one of the most affordable electric vehicle in market, and our ambition is to offer technology, design and ecology accessible to all. The UOU was created and developed by two young entrepreneurs. Along a great journey we have been investigating, developing create and recreate.
At this stage the UOU took shape, it is designed and tested.
 We can already see the UOU circulating in streets, and the drive experience is unique!
In last months we upgrade the fiberglass body and all electric system to provide a more detailed and user comfort.
We have every tune production and 5 vehicles being prepared.
 We need support to start a certified assembly line that allows us to begin to put the UOU in circulation on public roads in beginning of 2016. We count on your support to give life to this project and see UOU´s circulating in the streets.
Visit our website
www.electric-uou.com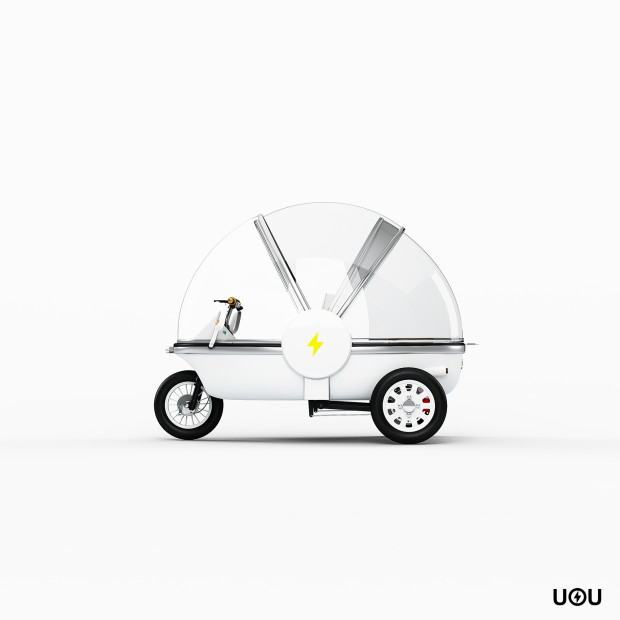 Attractive and avant-garde design. The vehicle has a simple and futuristic design. Projected for cosmopolitan cities, bold and attractive. Promises to arouse passions wherever he goes!
Innovation. It has an integrated steps connected to a Micro Power Generation system It enables users to generate their own energy. With UOU all users can have an active role in energy production.
Simple and Intuitive. Easy to use. The UOU has a simple and intuitive driving, needs no driving license, considered a bicycle. No need to own charging infrastructure, the UOU can be charged in a conventional home outlet.
Economic. Designed for public use its marketing price is a considerable added value. It aims to be an affordable vehicle, one of the most affordable electric vehicles on the market. 

Versatile, with a remote control system for opening and closing the bonnet, there are multiple possible configurations. Two seats (driver and passenger) and luggage.


Agile. Designed to urban centers, its dimensions allow easy progression on the road, more parking facility, and can be driven on bicycle lanes. 
Safe. It has an integrated alarm system, triggered by remote control.
The bonnet are made in anti-breaking polyurethane.
Panoramic. It´s oval design and its translucent roof, completely wide, allow a 360º view. A unique mobility experience to enjoy the surrounding.
Greater engine efficiency compared to combustion vehicles. Electric vehicles typically use between 0.1 to 0.23 kW / h per Km. The average consumption equivalent to a vehicle combustion is 0.98 kW / h per Km, thus being considerably less effective than the electric vehicle.
Zero emissions, Zero noise. The electric vehicle is the only solution 100% zero-emission in use. Zero-emissions translates into zero noise, zero emissions and effect greenhouse. 
Zero noise, quiet ride.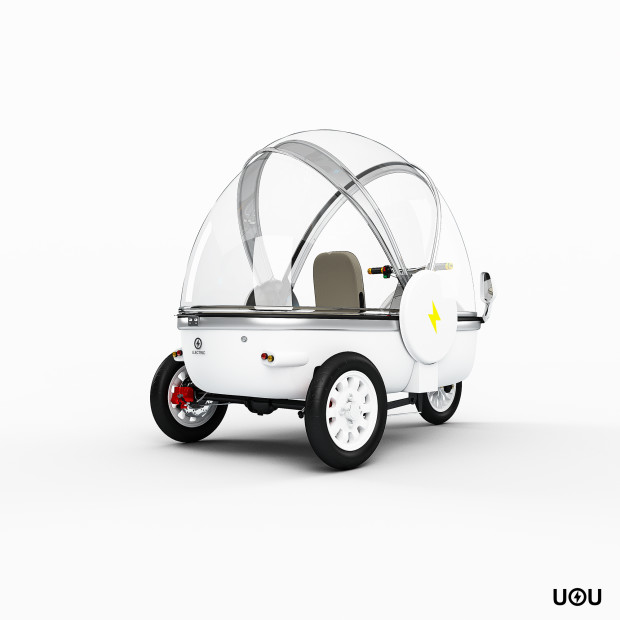 SPECIFICATIONS
Category Bicycle with electric motor
UOU Active – With StepSystem
Micro Power Generation
Speed 25 km/h (Europe Market) to 45 Km/h (Other Markets)
Autonomy 30-40 km / per charge with one set of lithium-ion battery (expandable) to 40-50 km and to 60-70Km
Enable users to generate their own energy
Wheels and Brake System New Technology with Hydraulic Disk Brakes in rear Wheels / Aluminium Light Rims
Front and Rear wheels: 300-10
Dimensions and Material Body in new Fiberglass Material anti-humidity.
Bonnet in Polycarbonate anti-break.
Lights in LED Technology.
Dimensions: 2.10 m  x 1.10 m  x 1.60 m
Functions Display with speed, battery info and range.
Opening and closing system with Wireless Remote Control.
Alarm with remote control.

THE PROCESS

Renew the Design to Production
We redesigned the prototype.
We improve all the engineering and developed a new chacie more lighter and more efficient. All this is aimed at developing a better product, more resistant, more efficient and prepared for mass production.
We develop new molds for future production.
The way the molds are designed allows a better  and a faster assembly. The fibers are designed so that they are glued with a special adhesive reduce the using of screws in this way could increase the strength of the material, have a faster assembler, and significantly reduce the friction.
At this time all UOU components are fit, like a puzzle. This allows us to also improve the appearance of UOU.
New Seats
We designed new seats. We studied all the ergonomic issues to offer the best comfort to UOU, to the both seats, the driver and passenger.
We have created a driver's seat with a unique design, which will be ready in the end of this month. It is a futuristic seat as the car with a unique design. The seat meets our concern about the weight, comfort and ergonomics.
To minimize the weight of the seat, in order to increase the autonomy of UOU, the seat was created in fiberglass reinforced. We also created a polycarbonate injected foam to optimize driving comfort.
The passenger seat is designed so that it can be easily removed from the vehicle. So the UOU now can be used with driver and one adult passenger, driver and two child or to carry goods or luggage.
New Technology
The Micro Power system has been redesigned. Now, the steps and all the mechanical system are integrated with the generator, connected to an electronic board that controls all the charging performance.
All the lighting of the vehicle has been redesigned. Now UOU has front headlight in LED technology. Rear lights, brake, reverse, flashing lights and presence are built in LED light. The lights are ready to consume as little energy so as not to compromise the autonomy.
The UOU are controlled (open and close) with a wireless remote control and have and alarm function.
We are preparing an integrated system that will allow users to carry any mobile in UOU. and connected the vehicle with an IOS phone.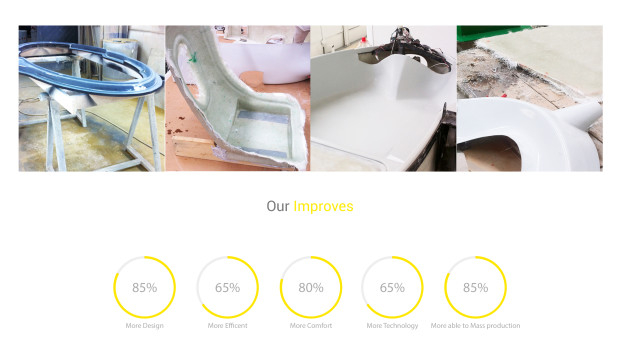 USE OF FUNDS
>> UOU is a self funded project with many reproductions of the prototype being built and market tested.  We already invest the redesign  to make UOU the best vehicle possible. We will also purchase raw materials, source components, open moulds, begin production.
We ask for your support to work in a legally certify of vehicle for public street use. We need your support to scale up the production and achieve the best quality at the lowest price. We do a deal with a manufacture to produce the vehicles. For production we will be able to scale up to the capacity of 40 vehicles/month and all methods of production will be handmade.
Use of funds will differ according to the available amount. This depends also from the kind of Perks that you choose, but here is an estimation of how we will use them. If we meet our goal we will be able to proceed to the licensing UOU for street usage for all the E.U. If we surpass our target and can raise more money we will be able to further develop the UOU and the production line. We will offer optional upgrades to the UOU that may include additional options.
So, the more we raise, the more fun and exciting the brand becomes!
If we do not meet the goal we will initiate the production of UOU, but not for street usage.
We count on your support to give life to this project and see UOU´s circulating in the streets.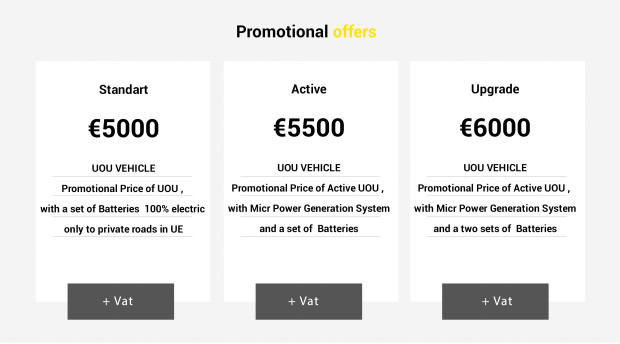 Summary:
The vehicle has a design that does not go unnoticed, dominated by transparent oval roof to the good flying car style of the JETSONS, the animated series that made furor in 60s and 80s and remains in our imaginary of the future.
Youtube: https://www.youtube.com/watch?v=EScPLVQw1ys
See Campaign: https://www.indiegogo.com/projects/uou-electric-vehicle#/
Contact Information:
UOU vehicle
Tags:
Indiegogo, Cars, Reward, English, Automotive, European Union, Industry verticals, Regions, Types of Crowdfunding deal, Portugal, Language
Source: ICNW