icnw
Wringo360 Exercise and Rehabilitation Device: a revolutionary exercise & rehabilitation device that promotes full body health
Wringo360 Exercise and Rehabilitation Device
What is the Wringo360™?
The revolutionary Wringo360™ (Patent Pending) is an exercise and rehabilitation device designed to actively engage the body's kinetic chain through the brain's conscious thought patterns. Specifically, the Wringo360™ allows your body to fluidly move within a 360-degree, 3 dimensional plane-based range-of-motion. This is called 'functional flexibility', because it mimics the movements our bodies make countless times everyday, simply by existing in our 3-dimensional world—including bending over, reaching, lifting, and rotating. This 2.5lb exercise device employs constant and consistent resistance, and you control the resistance through the intensity of your motions. This makes the Wringo360™ perfect for anyone to use regardless of pre-existing strength, coordination and endurance levels.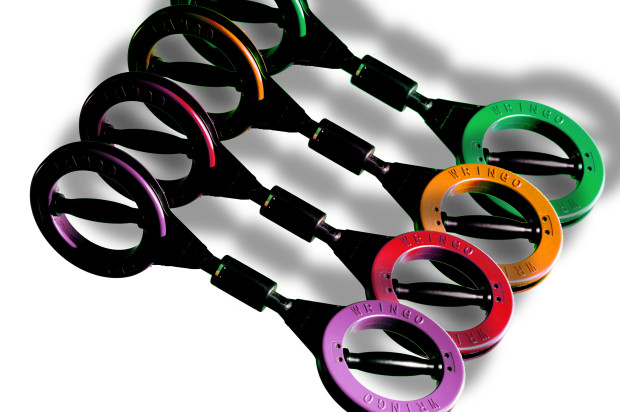 Who Needs the Wringo360™?
Everyone! The Wringo360™ helps strengthen, rehabilitate and retrain your body's posture. This makes it the perfect solution for body fatigue and muscle wasting in people who remain seated or immobile for long periods of time. Its variable resistance also makes the Wringo360™ excellent for people who struggle with weight and health issues that render classical exercise difficult. Because it works the body's kinetic chain from head to toe and everywhere in between, the Wringo360™ also benefits those who exercise regularly, including athletes, by strengthening coordination and the independent interaction of muscles, ligaments, tendons, bones and joints. Its patented Rotational Friction Resistance (RFR) technology is clinically proven to increase EMG muscle activity and bone density levels. Regardless of your fitness or health level, and whether for exercise and/or rehabilitation purposes, the Wringo360™ can help train and tune your entire body to be both fitter and healthier than it is right now.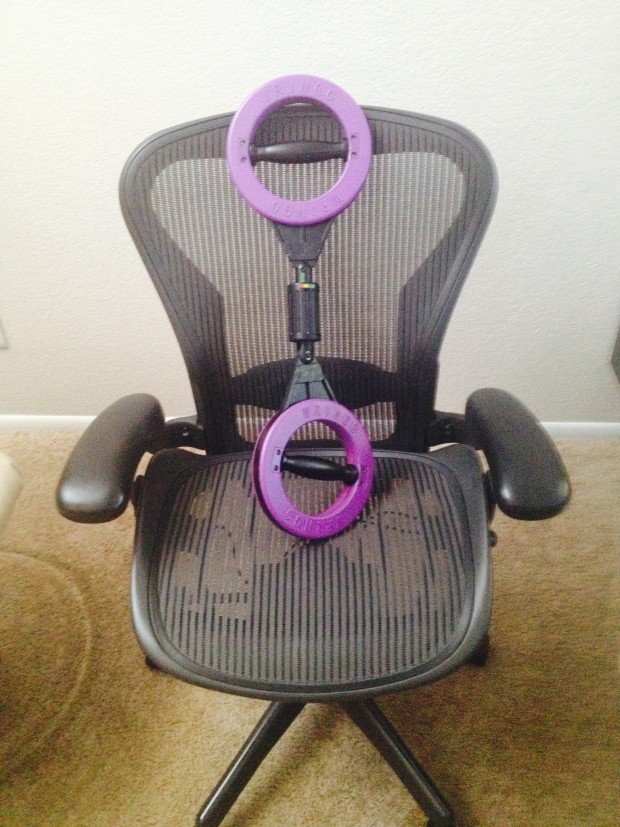 86% of the American workforce sits for 7.7 hours per day
-American Journal of Epidemiology
Why Fluid and Functionally Flexible Movements?
Because even though we are functionally flexible creatures, so much of our lives are spent in lineal motion that we actually inhibit our own health and wellness through performing our everyday routines. Whereas many fitness devices and methods rely solely on lineal, or static movements our bodies don't mimic in everyday motions, and our minds don't innately recognize—the Wringo360™ encourages dynamic, active and soothing rotational stretching that requires a constant engagement of the mind and body as one holistically congruent organism. It also employs Non Exercise Activity Thermogenesis, or NEAT technology. Simply stated, working with the Wringo360™ just a few minutes at a time periodically throughout the day stimulates muscle activity and also increases heart rate. This causes increased metabolism of body fat, which means strength training and weight loss all in one, and from the comfort of homes, offices, or anywhere else…isn't that NEAT?!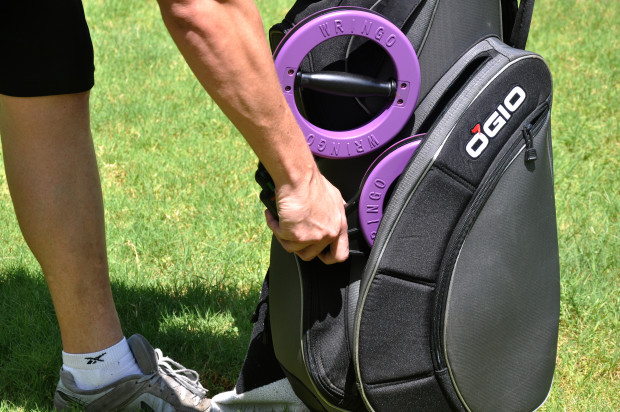 Where Can You Wringo360™?
Anywhere you want! Its portability means that you can exercise at the office, on vacation, on the golf course, or even lying down in bed watching television. Think about it: Sitting at your desk, or back at the hotel after a long and seated business meeting. How about sitting on your couch watching television, or even laying in bed? What about on the golf course, in the clubhouse, or the warm-up area of your gym or fitness center? Anywhere you are in need of fluid and functionally flexible movement—that is where the Wringo360™ will be.  Anywhere you need to strengthen and rehabilitate your body from the effects of your static, lineal lifestyle…and anywhere else you can and will benefit from increased circulation, heart rate, flexibility, coordination, range-of-motion and overall health and wellness, is where you can rely on the Wringo360™ to help you realize the holistic, happy and healthy you!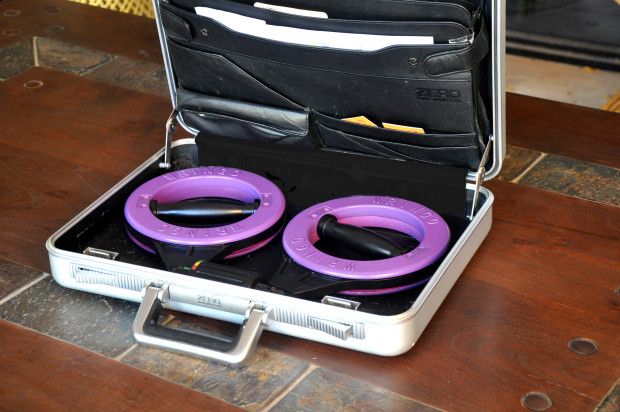 How Can I Get Involved, and Why Should I?
The Wringo360™ is already designed and engineered. We have several thoroughly tested, functional prototypes. In fact, our manufacturer is currently awaiting our first order. We plan to market the Wringo360™ through health and wellness outfits including fitness centers and stores, online e-commerce sites, and of course from us directly to customers worldwide. Through this campaign, we are offering you several exciting ways to become involved in the Wringo360's™ success, which can then become your success too. These include gifts to donors; investment shares in our company, and even additional creative participation depending on donation size. Basically stated, we want you to share in the Wringo360™ revolution—which of course then allows everyone across the globe to experience the revolutionary Wringo360™ for themselves too!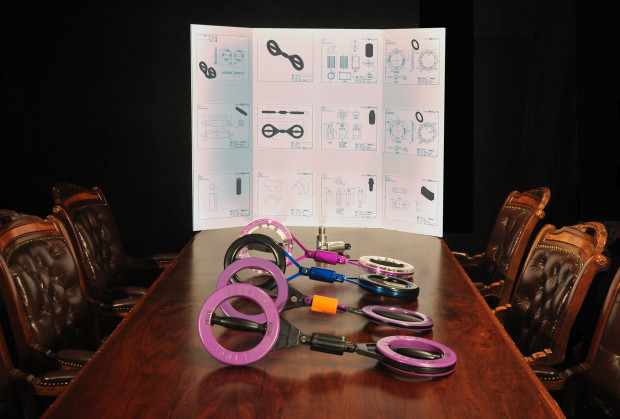 The benefits of  the Wringo360's patented Rotational Friction Resistance, or RFR Technology, have been featured in many respected publications including The LA Times, Mens Health Magazine, Shape Germany Magazine, Grazia Magazine, Shape USA Magazine, The New York Times, The American Chiropractor, and Competitor Magazine.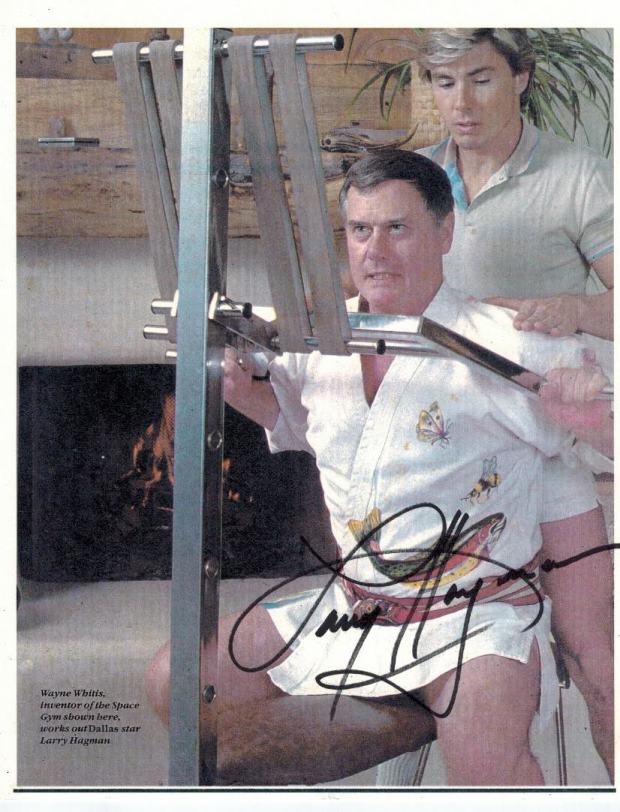 One of a kind photo, taken at Larry Hagman's Malibu colony home where I trained him for many years. This is from my personal collection. Michael W. Whitis
Testimonials
"As a chiropractor, I frequently encounter patients who are sedentary for eight hours a day or more. Sitting for prolonged periods of time can cause problems with poor posture, chronic back pain and even potentially deadly illnesses such as diabetes, heart disease and obesity. Using 360-degree rotational exercise technology, patients are able to move their bodies in three-dimensional movement patterns, improving their circulation, posture, strength, flexibility and mobility. Many people will greatly benefit as a result of this technology, showing positive results with frozen shoulders, tendinitis, bad backs, poor posture and overall well being."
Dr D Lipman | Chiropractor | Boca Raton, FL
"As a woman in my 60's, with extensive arthritis throughout my joints, I have struggled to find ways to exercise without causing additional pain and injury.  Bone on bone in my knees prevented me from doing strenuous exercise but since I started using Wringo360, I have been able to maintain a regular exercise regime. This amazing device provides me with an all round workout. I use it to stretch my back, strengthen my core muscles, tone and strengthen my arms, as well as my upper and my lower body. I have used it to reduce pain and inflammation caused by tennis elbow, rehabilitate my wrist after a fall and I even used it to help me rehabilitate after my bilateral knee replacements! Wringo 360 is simple to use, its light weight makes it perfect to pack and go, if I want to take it to the office, or on a trip. I highly recommend this product to anyone, at any fitness level, particularly if you have any difficulty using regular weights and machines at a gym or have injuries."
Sandy J. | Tarzana, CA
"We are currently researching the relationship between Mind/Body—Body/Mind through NeuroFeedback brain mapping, and we are evaluating movement efficacy allowing three-dimensional tailored feedback. When exercise is more fluid and effortless, blood flow efficiency in the brain is improved considerably, contributing to increased exercise effectiveness. This type of research will greatly impact and significantly benefit human beings on multiple levels."
Ron F | San Francisco, CA
"The first time I used the Wringo360 I was really surprised by how fluid and smooth it was. I thought there was no way this small, lightweight; single piece of equipment was going to give me a workout or cause me to work up a sweat, let alone increase my heart rate. Boy oh boy was I wrong. The best thing about it is that I could determine exactly what muscle group I wanted to target in a fun way. I could focus on my biceps till I felt the burn, then instantly switch to my triceps, without having to adjust a pin, or move to another machine. All right there, on the spot! It's the perfect training tool for anyone on the go since it's light and compact. I think everyone should have one of these, especially for toning. I can't think of a better way to give your muscles a good stretch and strengthening. Perfect for athletes who don't want to pull anything. You can easily achieve a full body workout in less than 15 minutes with this thing. This is a truly revolutionary fitness product. Not a gimmick. Love my Wringo!"
Gary S. | Trumbull, CT
__________________________________________________________
Check out our blog here for more information:
Summary:
The revolutionary Wringo360™ (Patent Pending) is an exercise and rehabilitation device designed to actively engage the body's kinetic chain through the brain's conscious thought patterns.
Youtube: https://www.youtube.com/watch?v=wOTZGDay_cU, https://www.youtube.com/watch?v=VP3EgGKWMPA
See Campaign: https://www.indiegogo.com/projects/wringo360-exercise-and-rehabilitation-device#/
Contact Information:
Michael Whitis
Jean Sandler
Gary Sandler
Tags:
Indiegogo, Reward, United States, English, Arizona, Healthcare, Medical Devices, Medical & Healthcare, Industry verticals, Regions, Types of Crowdfunding deal, Language
Source: ICNW